加拿大TRC(多伦多研究级化学品):生物化学试剂,复杂有机小分子化合物,杂质标样,药物中间体,对照品,标准品——TRC是全球生产研究用复杂有机化学品的先驱,客户包括生物技术企业,制药和诊断产品公司,特殊化学品生产商以及医院、大学和研究机构的研究所等。TRC是一家来自于加拿大多伦多的北美著名化学企业,成立于1982年。TRC可提供数十万种有机化学品用于科学研究。TRC拥有多领域的化学专业技术,包括碳水化合物化学,分析化学,芳香烃化学,硝化物,硫酸和硫化学以及放射同位素和稳定同位素标记化学等。
如今,TRC多伦多研究化学品公司拥有1300多名全职员工,其中大约300名是博士学位和理学硕士,它们工作在加拿大多伦多的超过230,000平方英尺的设施中,包括26个生产实验室。TRC目前提供超过350,000种产品的广泛目录,并有大量库存可立即发货。如果产品没有库存,TRC将根据客户订单进行新化合物和已知化合物的生产。TRC多伦多研究化学品公司为全球超过105个国家的科学界提供产品和技术支持。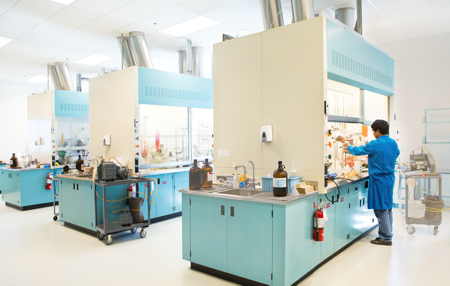 Toronto Research Chemicals, TRC was founded in 1982 to manufacture and supply researchers in the biomedical fields with specialized complex organic small molecules not otherwise commercially available.
北实纵横科学公司--TRC:杂质标准品

Today, Toronto Research Chemicals Inc. employs more than 300 full time staff, of which approximately 200 are PhD's and MSc's, operating in 120,000 square feet of facilities, including 15 production laboratories, in Toronto, Canada.
北实纵横科学公司--TRC:复杂有机小分子化合物

TRC currently offers an extensive catalogue in excess of 250,000 products with an extensive inventory for immediate shipment. Where stock is unavailable, TRC will undertake production of new and known compounds upon customer order. Toronto Research Chemicals supports the global scientific community across more than 105 countries.
北实纵横科学公司--TRC:创新研发与定制合成

Why Choose Toronto Research Chemicals?
Specialized in providing high quality bio-chemicals in custom pack sizes to satisfy any quantity required.
Distribute to companies worldwide, usually, providing overnight delivery in North America via Federal Express. We also offer alternative carrier options to meet worldwide delivery and special import requirements as well as dangerous goods.
A dedicated professional customer service team positioned to ensure customer satisfaction and technical support.
TRC – LGC Partnership
Toronto Research Chemicals (TRC) has for 38 years specialised in the production of high-quality products for innovative research. With a catalogue of 300,000+ research products and state-of-the-art analytical facilities, TRC's goal is to provide the tools and support required by researchers in the global scientific community.
TRC's catalogue showcases a wide range of products, including analytical standards, natural products, APIs, impurities & metabolites and more than 18,000+ stable labelled standards. These products are used in numerous applications, including forensic science, environmental analysis, and pharmaceutical and medicinal R&D.
Our product quality is ensured by cutting-edge analytical facilities and 250+ experienced MSc & PhD chemists, working to provide the highest quality products possible. With customers in more than 140 countries, TRC is a trusted brand in the global scientific community.
And through our recent partnership with LGC, a global leader in the life science sector, we plan to continue to fulfill our promise of better serving our customers around the world, through providing an extended portfolio of reference standards, research tools and building blocks.
Our 38 years of expertise in research chemical synthesis, combined with a dedicated & knowledgeable customer service team, makes TRC a one-stop solution for all your research needs.
 Know more: https://www.lgcgroup.com/newsroom-and-blog/news-and-blog/lgc-acquires-toronto-research-chemicals/
TRC @LGC: https://www.lgcstandards.com/NO/en/Toronto-Research-Chemicals/cat/279854
Today, LGC announced the acquisition of a majority stake in Toronto Research Chemicals ("TRC"), a leading manufacturer and supplier of synthetic organic bio-chemicals which are used as reference standards, research tools and building blocks by a highly diversified global customer base across the pharmaceutical, applied and research sectors.
The acquisition of TRC complements LGC's existing reference standards business, which includes the MikromolTM and Dr EhrenstorferTM product portfolios, and provides commercial and operational opportunities to develop the combined product and service offering to customers globally.
Reproduction of any materials from the site is strictly forbidden without permission. Toronto Research Chemical products are sold exclusively through TRC-Canada and approved distributors.